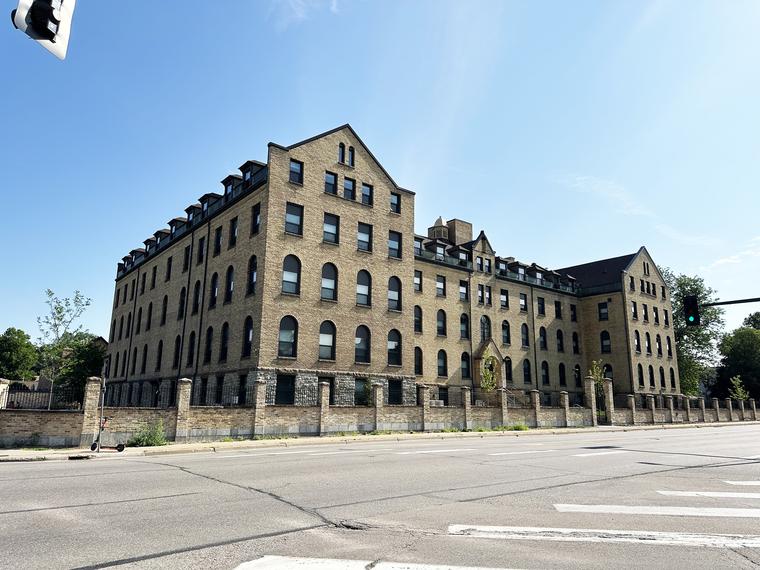 Stonehouse Apartments
Originally constructed as the Little Sisters of the Poor Home for the Aged, this complex consists of three historically significant buildings constructed between 1895 and 1920. The main building was built in three stages with the central portion and north chapel wing constructed in 1895, the east wing in 1905, and the west wing in 1914. A separate laundry building, originally built in 1920, lies to the northeast of the main building, and a carriage house built in 1914 to the Northwest of the main building. All three buildings were converted in 1978 to accommodate dwelling units, with 64 units in the main building, 4 units in the laundry building, and 3 units in the carriage house building. The units are a mix of studio, 1- and 2-bedroom layouts. Several units have lofts or are two-level townhouse style units, but there are also 4 fully accessible units on the property. 
 
The renovation was a general refresh and update to the existing complex. Among the changes, a reconfiguration of the existing community room, exercise area, and mail room to meet current accessibility standards, and provision of a new leasing office and secure package room. On the exterior of the building the project included relocation and reconfiguration of the accessible parking and route to the building, replacement of deteriorated exterior finishes, masonry repairs, and selective reconstruction of the historic perimeter brick and cast iron wall that encircles most of the site. 
The property is listed on the National Register of Historic Places and the updates required review by the State Historical Preservation Office, the National Park Service, and the Minneapolis Heritage Preservation Commission. 
Like what you see?
Contact us to tell us about your next project.
Contact Us