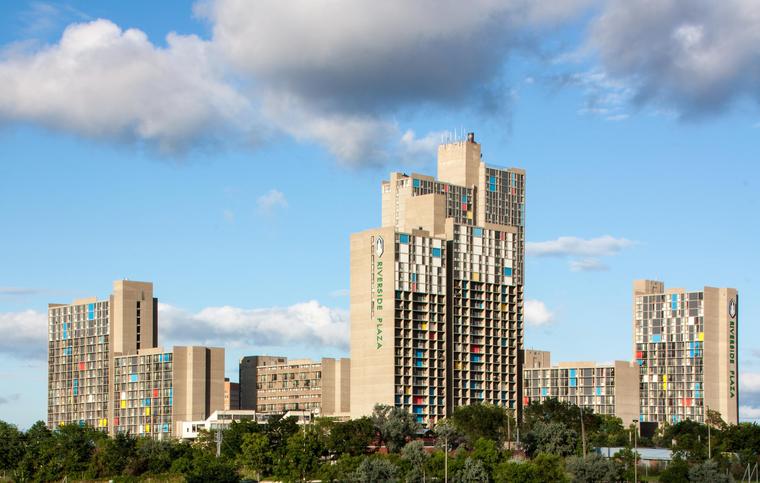 Riverside Plaza
Making History Again
The Riverside Plaza renovation project is not only notable for its large scale and comprehensive scope, but also for the pioneering designation of the modernist complex on the National Register of Historic Places.
Designed by renowned Minnesota architect Ralph Rapson and completed in 1973, it was originally known as Cedar Square West and Developed under a HUD backed "New Town in Town" concept which aimed at remaking blighted urban areas into a more integrated, vibrant cityscapes. While surrounded with controversy from the start and often mischaracterized, the complex has consistently maintained high occupancy rates, and has been hailed as "our Ellis Island" having served as home for countless new immigrants.
After almost 40 years, the iconic complex was due for a major renovation to insure its ongoing viability. Blumentals /Architecture provided full services covering all aspects--from unit renovations, extensive piping and system replacement, energy efficiency enhancements, common area finishes, fire sprinkler and other life safety improvements, patio door replacement and window refurbishing, concrete restoration, roofing, and finally exterior color panel recoating, bringing the complex back to its original bold color scheme. All improvements and renovations were designed to conform to strict preservation guidelines and standards outlined by the National Park Service and the Minnesota State Historical Preservation Office.
Facts and figures of the 2012 historical restoration and renovation:
1303 apartment units and 11 buildings in a 9 acre setting urban setting.
A 2-year renovation from January 2011-December 2012 included a complex on-site resident relocation plan.
Energy consumption reduction of 25%-30%
Over 3000 windows were refurbished and 1000 patio doors replaced.
2055 colored exterior concrete panels were recoated bringing them back to their original colors.
33 miles of plumbing drain and heating piping were replaced.
11.4 miles of sprinkler piping was installed.
Listed on the National Register of Historic Places for its cultural significance, the project has received the following awards:
2013 National Trust/HUD Secretary's Award for Excellence in Historic Preservation
2013 Preservation Alliance of Minnesota Award
2013 Minneapolis Heritage Preservation Commission Award
Like what you see?
Contact us to tell us about your next project.
Contact Us