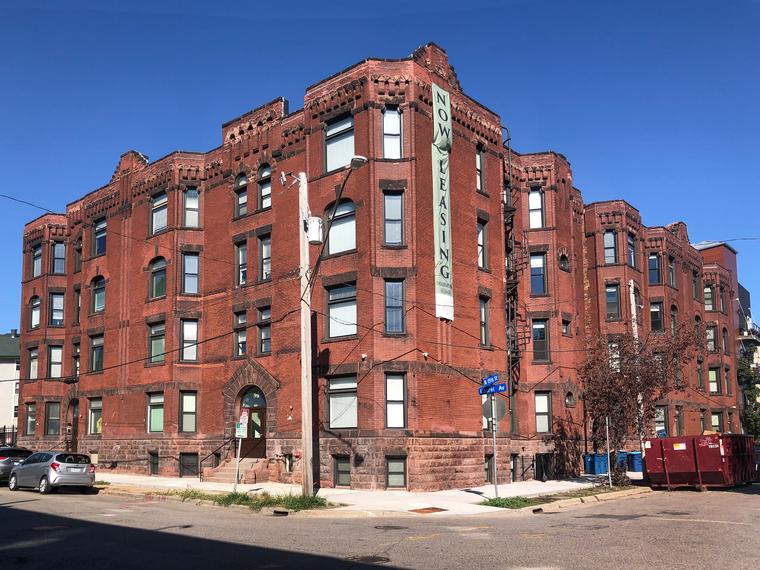 Park Laurel Apartments
The Park Laurel Apartments, built in 1893, consist of four, four-story buildings at 1502 and 1506 Laurel Avenue, and 15 and 19 North Fifteenth Street. Originally designed as large luxury "railroad flat" style apartments, the building was modified in 1947 to single room occupancy type housing with the original 34 units divided into a 96-unit configuration.  
The current renovation will modify the building to accommodate a total of 66 new units, with a mix of studio and 1-bedroom layouts designed to fit within the remaining framework of the historic plan to optimize marketability while preserving the historical integrity to the satisfaction of the State Historical Preservation Office (SHPO) and the National Park Service. Among the features being preserved are 40 original tile fireplaces and historic woodwork and built-ins throughout the property. 
The renovation includes the addition of fire sprinklers and alarms, full replacement of the electrical, mechanical, and plumbing systems, a new rear deck which also serves as a part of the building egress for three of the four buildings on the property, relocation and consolidation of the mail delivery components including a new secured parcel room, and a new LULA elevator providing access to two new dwelling units designed to meet accessibility 
standards. The renovation is underway and scheduled 
to be completed in the fall of 2021. 
Like what you see?
Contact us to tell us about your next project.
Contact Us