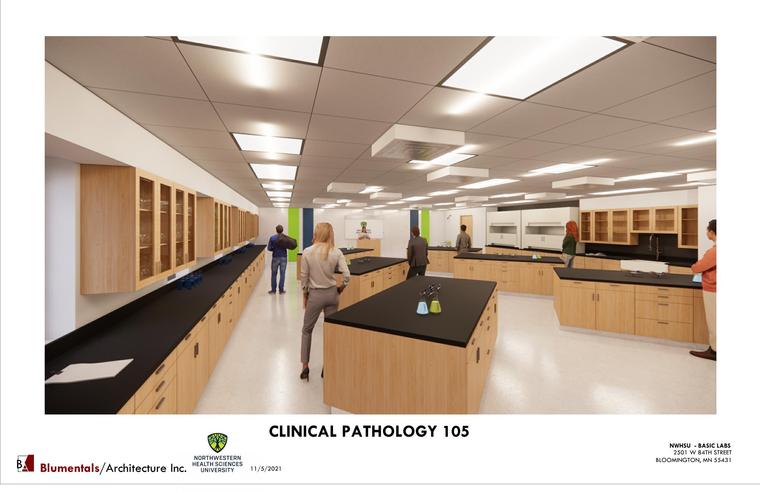 Northwestern Health Sciences University
Blumentals/Architecture recently worked with Northwestern Health Sciences University to renovate their existing Basic Science Labs.  New air supply with radial diffusers along with gas and vacuum ports were upgrades to the existing renovated Bloomington Middle School building that NWHSU occupies.  The Basic Science Labs include; Pathology, Micro-Biology, and Chemistry Labs.  Each lab has its own unique requirements but needed to be equipped to have flexibility in case of cross scheduling needs.  The workbench layout was developed with the faculty to maximize learning interaction and faculty/student exposure.  The herringbone workbench layout in the Pathology and Microbiology allows for 4 person workbenches with flow around each group of four, while maintaining a lecture/presentation focus at the front of each lab.  The semi-circle workbench layout in the Chemistry lab allows for the same 4 person workbenches to flow, but with focus on the wide side of the lab for radial focus on lecture/presentation.  The faculty were integral in developing these design layouts with a constant call to maximize teaching interaction.
Like what you see?
Contact us to tell us about your next project.
Contact Us